Kore 2.0 comes with the instruction manual in the box, underneath the watch itself. The PDF Kore 2.0 manual may also be downloaded to any PC or smartphone. Use the Kore 2.0 smartwatch manual for insight on Kore 2.0's functions, settings, app installation, and functional modes. The manual also comes with helpful QR codes for scanning in case you struggle with setting up your Kore 2.0.
KORE 2.0™ INSTRUCTION MANUAL
Kore 2.0™ smartwatch comes with a handy instruction manual. Please read below or download it here: Kore 2.0™ Manual.
CHARGING THE BATTERY:
Kore 2.0™ is equipped with a magnetic pogo pin charging dongle.
Attach the bottom of the watch to the magnetic pogo pin charging dongle. (See diagram to right)

To charge, plug the dongle into a 5V 1A USB-A port (not included) or a wall socket with a USB adapter. Make sure your power source is 5V. It might take up to 3-5 minutes for the watch to be responsive.

Allow Kore 2.0™ to charge for up to 2 hours or until the battery indicator on the home screen is full.

When completely charged, remove the device from charging dongle.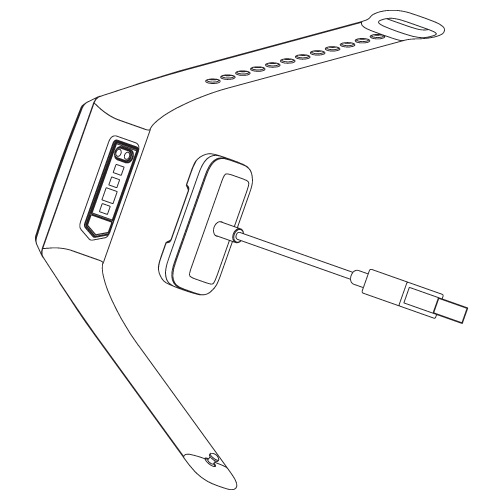 TIPS FOR USE
If the Kore 2.0™ screen does not light up immediately after being plugged in properly, the battery may be completely drained. Let it charge for at least 5 minutes. The screen should light back up within this time. If Kore 2.0™ still does not light up or charge after all these steps, please contact customer support.
TO TURN ON KORE 2.0™ :
Long press home button to turned on the device.

If the device cannot be turned on, it is possible that the battery might be low. Please charge it on a 5V rated USB power supply for up to 3-5 minutes. Please refer to the charging instruction on page 2.
TIPS FOR USE:
Kore 2.0™ requires approximately 20 seconds to get a heart rate or blood oxygen reading.

For optimal performance, it is recommended to wear Kore 2.0™ on your left wrist.

To keep Kore 2.0™ clean, wipe it down with a damp cloth once a week or after physical activities.

To maintain consistent sensor reading, it is recommended to clean the sensor at the back of the watch after use. Dirt, lotion, grease or excessive water and sweat will affect sensor performance.
FASTENING THE WRISTBAND: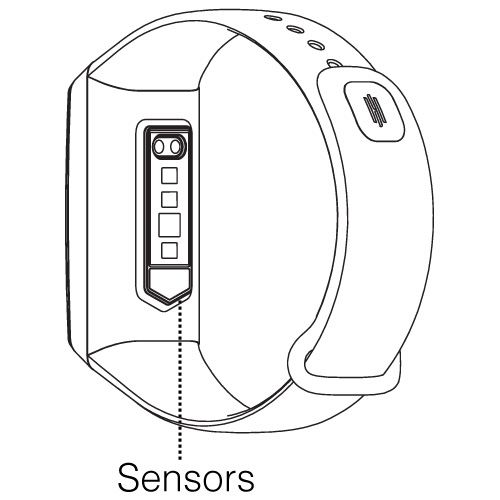 The device sensors requires direct skin contact on your wrist to get an accurate reading.

Hold Kore 2.0™ in place on the outside of your wrist.

Tighten the wristband until you feel it has a snug fit around your wrist, but not so tight that it cuts off circulation, then fasten the pin-and-tuck strap.

To remove the device, unpin the tuck strap.
INSTALLING THE KOREHEALTH APP:
Download the KoreHealth App onto your iOS or Android smartphone by scanning the QR codes on the next page, or by searching "KoreHealth" in the App Store or Google Play Store.

Device requirements: iOS 8.0 and above; Android 4.4 and above.
CONNECTING KORE 2.0™ TO YOUR SMARTPHONE:
You will have to pair your Kore 2.0™ to your smartphone manually the first time you use it. After that, it will connect automatically anytime your device is within range. Your Kore 2.0™ can store off-line data for up to 30 days before syncing with your smartphone.
Open the KoreHealth App on your smartphone.

Hold Kore 2.0™ near your smartphone and go to Device page, click "Pair Device".

Choose Bluetooth name corresponding with your device's unique serial number (ex. K2XXXXXX). You can check your device's Bluetooth name in Settings.

Connection completed.
USING KORE 2.0:
Kore 2.0™ is equipped with a glass touch screen and capacitive Home button () located at the bottom of the screen.

Swipe up down left and right on the screen through modes.

Short Press on screen/icon on screen to select.

Short Press the Home button () to return to previous screen.

Long Press the Home button () for 3 seconds to return to the Home screen.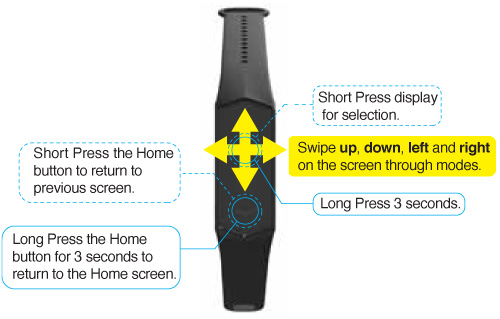 TIPS FOR USE
The touch screen could be affected by conductive media such as water from shower or rain. Make sure the button interface is clean and dry when using
HOME SCREEN
The home screen displays the time, day, date, weather, health metrics data and other essential information.
To change the home screen display style, long press the home screen for 3 seconds to open Cover Style Selection. Swipe left and right to view cover design. Short press at the end to confirm your selection.

MODES
To cycle through modes (ie. Health metrics data, workouts, messages and more), scroll up and down.

Swipe left to enter function modes.
---
HEALTH METRICS DATA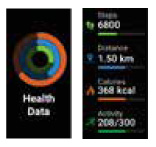 Measures your daily steps, distance, calories and activity minutes. Short press Health Data to expand details.
---
WORKOUT

Measures your performance during specific exercises. Swipe up and down to select workout (Walk, Run, Cycling, Gym, Hiking, Basketball, Soccer, Tennis, Yoga, Dance, Badminton). Select Target Setting (Distance, Duration, Calories or Open Goal) and begin workout.
---
HEART RATE MONITOR

Measures your heart rate in beats per minute.
---
HRV

Tracks the variation in time between each heartbeat.
---
BLOOD OXYGEN MONITOR

Measures oxygen levels in your blood.
---
SKIN TEMPERATURE

Tracks skin temperature measurement.
Friendly Reminder
The unit of measurement can be changed from °F to °C in your App. The metal temperature sensor will need direct skin contact in order to take an accurate reading. Water, sand or dirt between your wrist and watch will result in inaccurate readings. The skin temperature measurement can take up to 1 minute to reach a stabilized measurement.
---
SLEEP

Measures your total sleep duration. It also breaks down your sleep patterns.
---
RELAX

Set timed goal to relax. The device will lead you in a breathing exercise.
---
TIME

Use timer and stop watch function.
---
NOTIFICATION

Views incoming messages from your smartphone. Scroll to the left to view details. Notification alerts SMS, Facebook™, Instagram™, Twitter™, Messenger™, WhatsApp™, Telegram™, Pinterest™, Snapchat™, Gmail™, Skype™, Line™, VKClient™, QQ™ and WeChat™.
---
PHONE CALLS

View incoming calls from your smartphone. Accept (to answer calls via smartphone) or decline calls.
---
WEATHER

Displays local weather when connected to App.
---
MUSIC

Control music from connected smartphone.
Note: Music control will only work when your Kore 2.0™ is paired with a smartphone and the KoreHealth App is running that device.
---
FEATURED STATUS

Access this section by swiping right on the main screen. Adjust brightness, Raise to wake and Do not disturb.
---
REMINDER

Set daily reminders to take medicine, drink water or take a walk.
---
SETTINGS

Select setting options (Find phone, display, language restart, power off, reset or about) by tapping on desired feature. FCCID information is listed in About.
---
FACTORY RESET

In Settings you will find the RESET button. This will prompt you to restore your Kore 2.0™ to its factory setting which will erase any existing data and preferences.
FEATURES VIA APP
Kore 2.0™ will vibrate when you receive a call or text message. To activate this function, you will need to set it up in the App under 'Device'.

When you receive a call, Kore 2.0™ will vibrate. Long Press the function button to decline the call.

Message alert (ie. Twitter™, Messenger™, Facebook™, WhatsApp™, Hangout™, Skype™, WeChat™, QQ™ and Line™.) needs to connect in "App" section.

Alarm function can only be used on the App.

Stand Up Reminder is adjustable from 30 – 180 minutes with increments of 5 minutes.

You can link Kore 2.0™ data to AppleTM Health App.

Rise to wake – Kore 2.0™'s screen will automatically turn on when your hand is raised.

Distance Units – adjust by going to App, 'Device' -> 'General'.

Display Timeout – adjustable by 5-30 seconds with increments of 5 seconds.

Heart Rate – you can set up auto heart rate monitoring every hour.

Do Not Disturb – select a time frame where you can turn off Kore 2.0™'s vibrations, light up feature, or information push.

24-hour Time Setting – adjust by going to App, 'Device' -> 'General'.
LANGUAGE SETTINGS:
You can change the language settings directly on the Kore 2.0™ by selecting 'Settings' "Language" and cycle through until you reach the languages. To change the language settings through mobile App, go to 'Device' -> 'General' while connected to your Kore 2.0™.
Available languages:
English

German

French

Spanish

Portuguese

Simplified Chinese

Hindi

Japanese
SPECIFICATIONS:
Kore 2.0™, charging dongle, wrist band, instruction manual